WHO WE ARE?
About us – Naresh Traders is a sanitaryware dealer in Lucknow established in 1970 and is a well-known brand in retail and wholesale of the latest and innovative products in Bathrooms. It's one of the favorite design stores for those who are looking for trendy and stylish concepts for their Dream Bathrooms. We provide an entirely vast and unique range of premium and latest products sourced from different corners of the world, so no bathrooms are the same which makes us different in the market.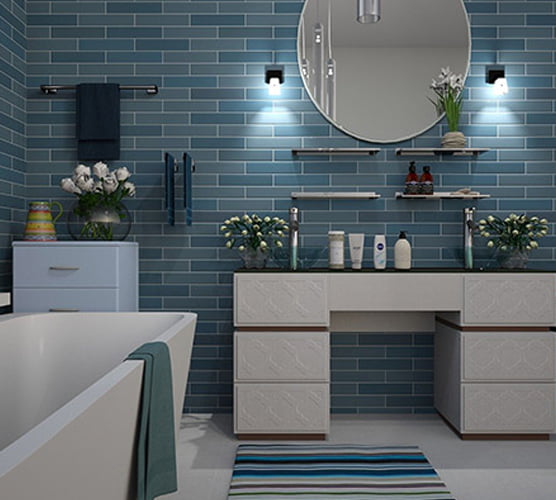 WHAT IS UNIQUE ABOUT US?
We offer a wide spectrum of experiences through an extensive range of products. To complement the Sanitaryware products there is a range of faucets, tiles, shower products, kitchen sinks, and personal care products.
Serving as a focal point of the space, the island kitchen design offers a break from the monotonous wall-perched kitchen. Along with a fresh breath of creativity, this design carries way more in terms of utilities such as extra storage and seating space.
Aesthetic and durable, the leatherette wrapped around the Wardrobe doors is lush and tailored to precision. Through its color and texture, the faux leather creates a space of warm earthiness that satiates the senses with its subtlety.
RANGE OF PRODUCTS
Hettich – We are the highest quality Modular Kitchen suppliers in Lucknow who deals in the products such as Hinges, Drawer Systems, Drawer Runners as well as Sliding and Folding Door Systems
Porcelanosa Group – Noken bathrooms combine design, sustainability, elegance, and resistance. Thermostatic faucets, wellness equipment for baths with hydrotherapy and chromotherapy functions, suspended and built-in toilet systems, countertops, shelves, backlit mirrors, additional cabinetry that expands the capacity of each space, and bathtubs that adapt to the shape of the body are some of the most innovative products available for bathrooms.
Kajaria– Our mesmerizing range of designer bathroom & kitchen floor and wall tiles have a luxurious appeal and seem to have been struck with afflatus. Every single piece of tile from our range of designer bathroom & kitchen floor and wall tiles has a compelling aura.